impy
Okay, we're chopping this release up into easy to post bits. Also, fair warning, but when AG updated their site, they also changed how their pictures load so yeah, I'm not editing things because it's taken this long just to do this much. Onward.
First up, Gabby!
Gabriela's Take Flight Performance Outfit // $34
Item# FDX33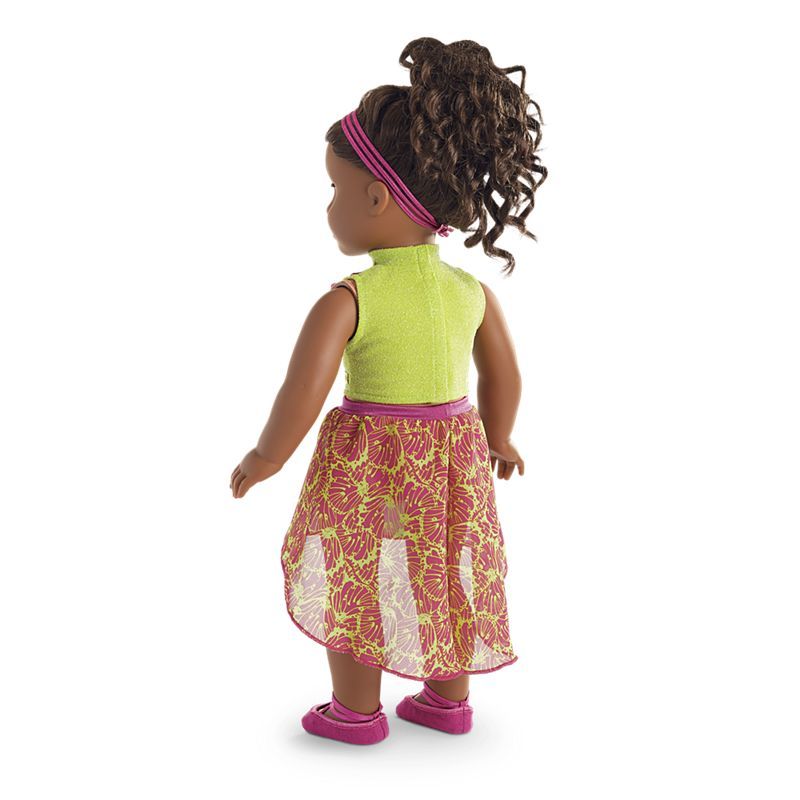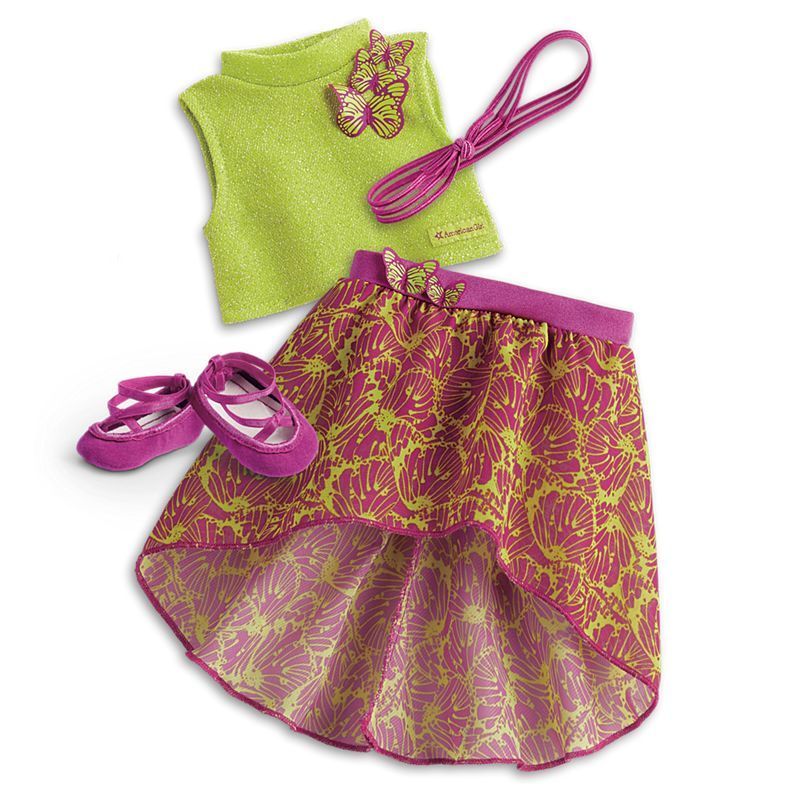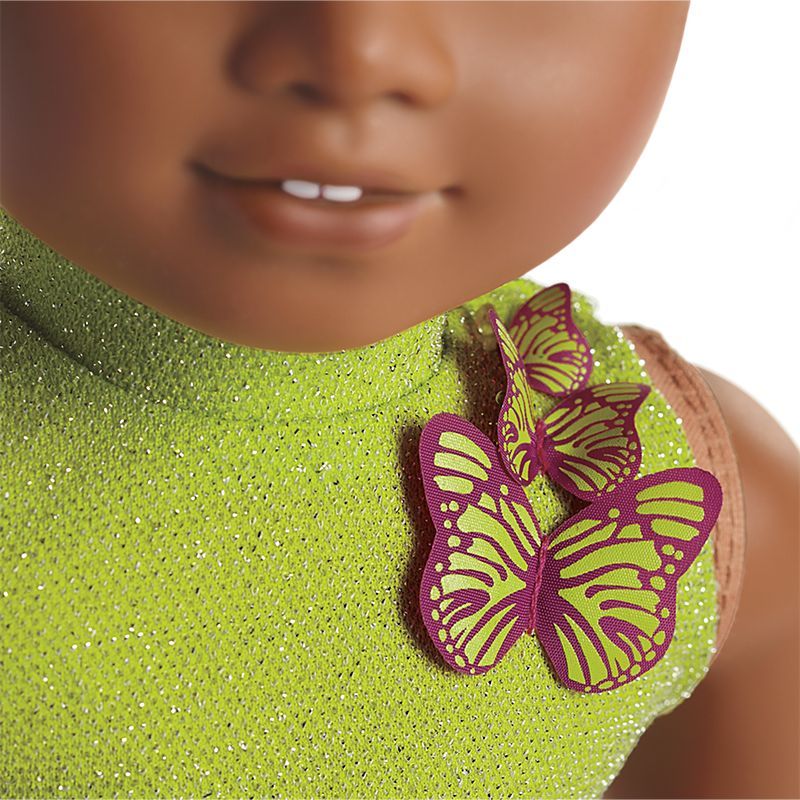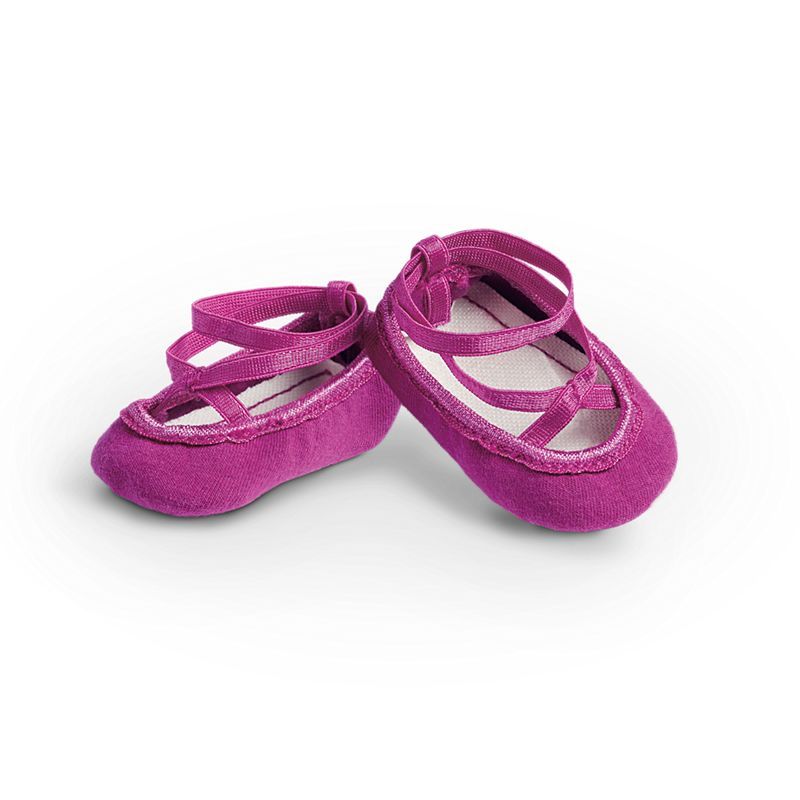 Gabriela almost feels like she's floating when she dances in this gorgeous getup. It includes:
A sparkly knit mock-turtleneck top with butterfly appliques on one shoulder
A sheer dance skirt in a bright butterfly print, with a high-low hem, butterfly appliques at the waist, and built-in briefs
A pink headband to keep Gabriela's curls off her face
Bright-pink dance shoes with crisscross straps
AG, just because you made the name for this thing six paragraphs long doesn't actually increase her collection size. Anyway, whenever this first leaked I was
at best
meh about it. I'm still meh with a side of "I hate that color combo" that I am trying to tamp down because Gabby's got enough issues, dammit. She doesn't need me being extremely petty about her new outfit's color combo or the high-low hem that is, and will forever be, the mullet of the fashion world. But let's make the shirt a crop top AND a mock turtleneck. Really, and why not add sme random butterfly appliques, too. (The butterflies are probably the only thing I don't hate about this whole thing, but appliques in general tend to be a bit much.)
Can you tell I hate this thing? Nyeh. I like you, Gabby, and I will buy you sooner or later (damn Cass's insistence on buying them together!) but this outfit would only come home if gifted or I won it or something.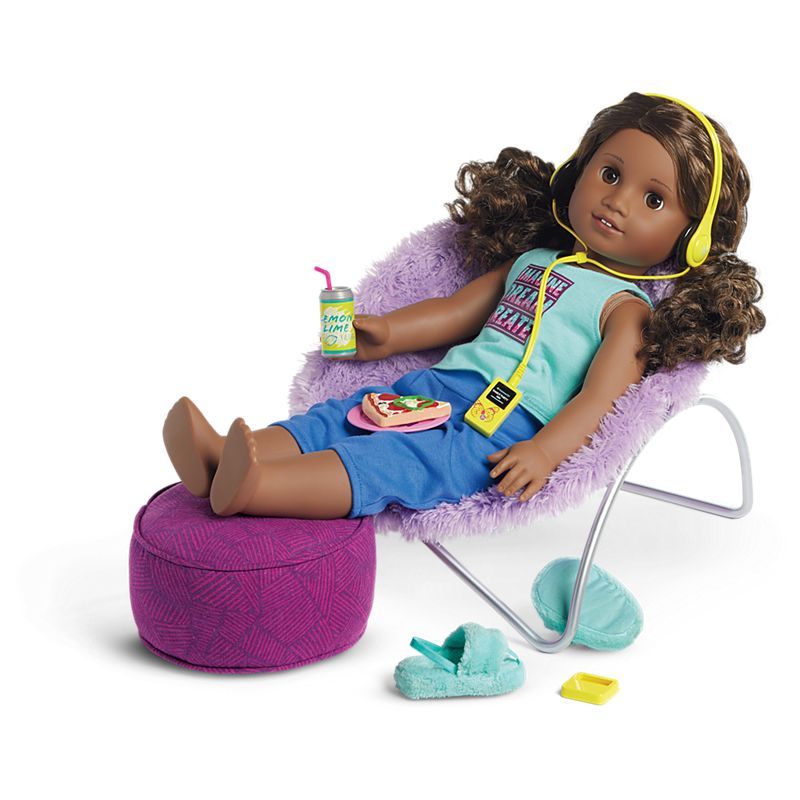 Gabriela's Chair & Ottoman Set // $75
Item#FDL59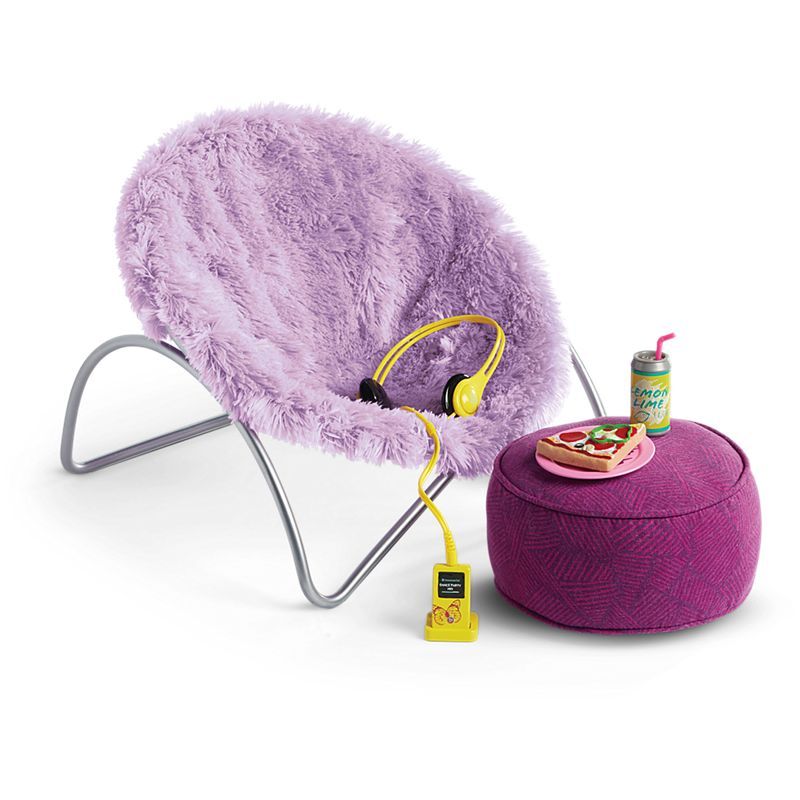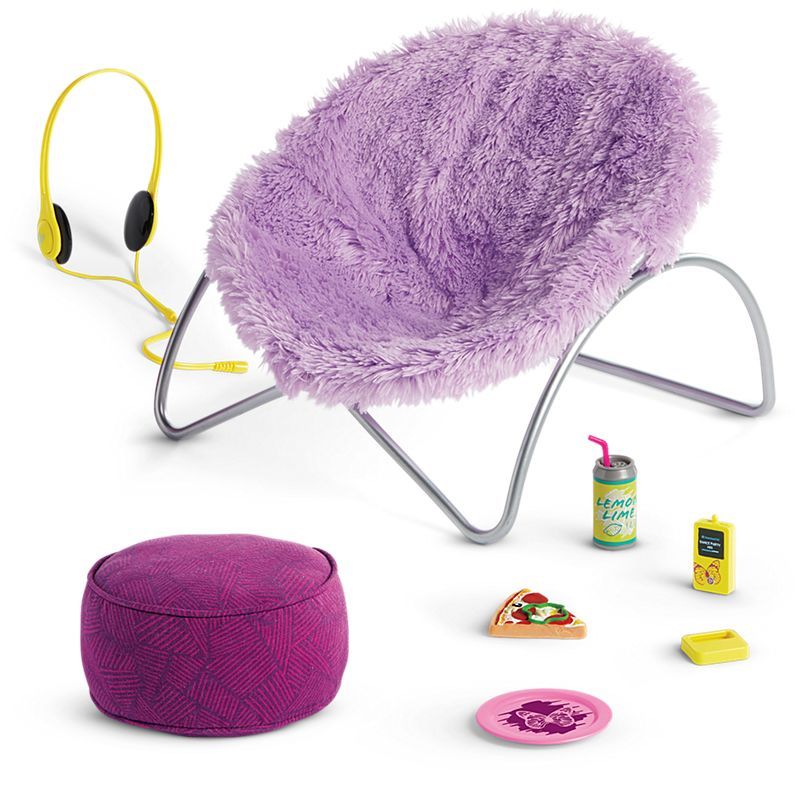 This is Gabriela's favorite place to kick back and relax after dance practice. Includes:
A soft, fuzzy papasan-style chair
A colorful ottoman where she rests her feet
A canary-yellow pretend MP3 player and headphones to play Gabriela's favorite tunes
A slice of faux pizza on a plate and a cold drink for snacktime
Huh. So Gabby is a Sprite or a 7UP fan. I guess i could be a Sierra Mist thing but no, I cannot believe she'd drink something so bleh. Anyway, this is a purple fluffy chair thing. Eh. I'm not a fan when Mattel does these for Barbie or any of their other lines and I'm not a fan here, either. I like the purple. *shrug* I won't be buying, though if it had been cheaper, I might've been more easily swayed. As it is, I could spend $75 and get myself a chair, y'know?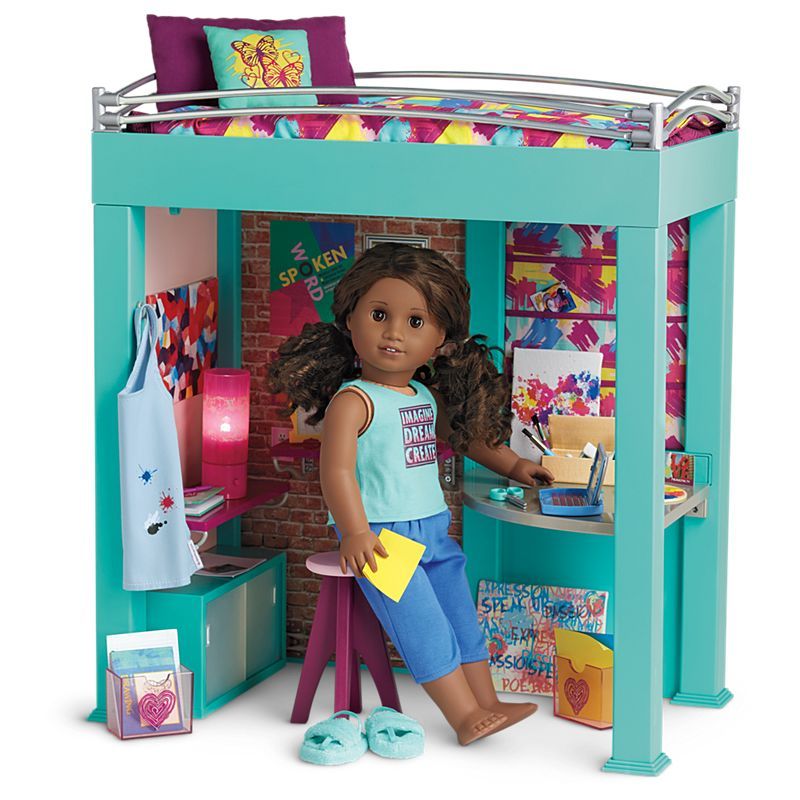 Gabriela's Loft Bed // $200
Item# FNH58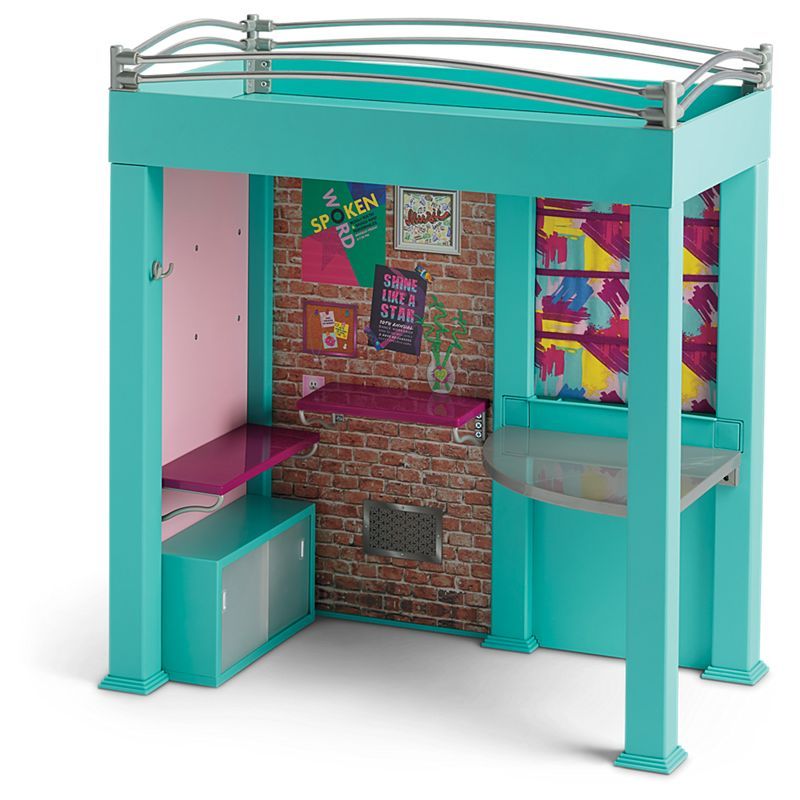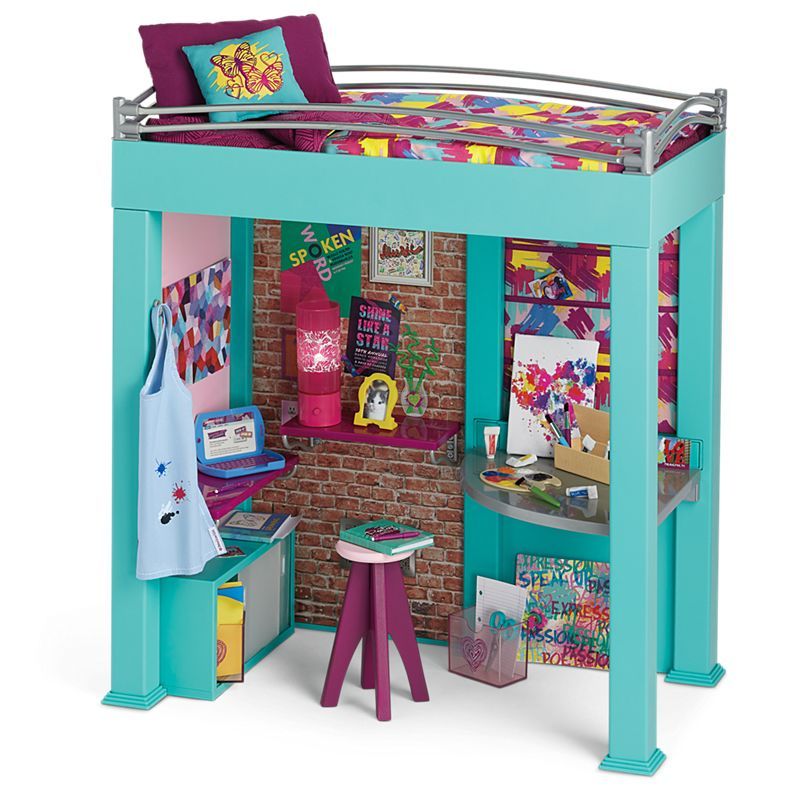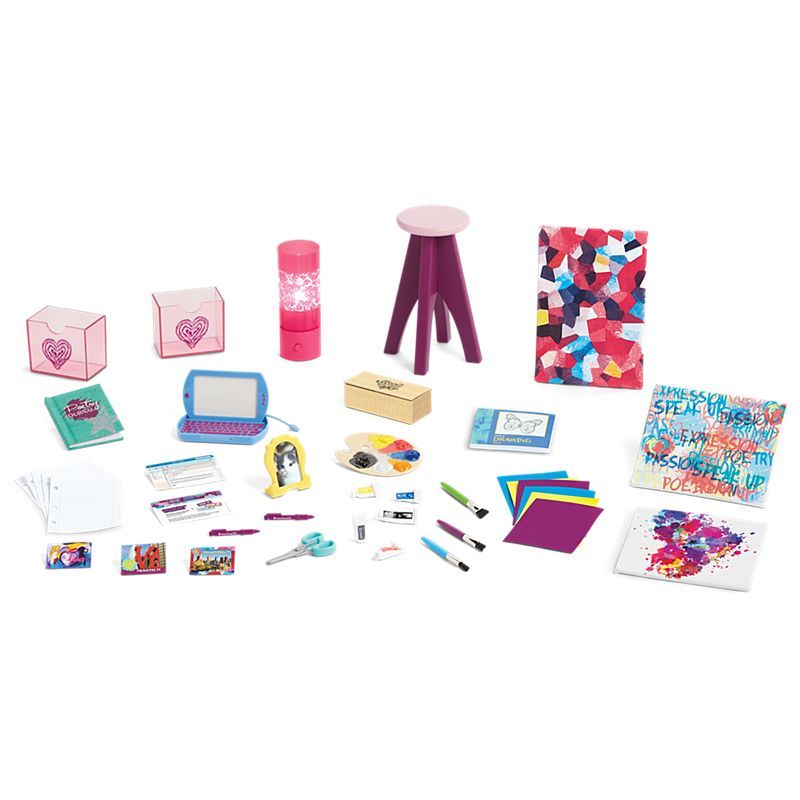 By day, Gabriela brainstorms and creates in her cozy artist's studio—and at night, the perfect place for sweet dreams is right overhead. The artist's studio has a faux brick wall on one side, a desk, and shelves for storage. This set includes:

A wooden loft bed with a mattress, pillow, colorful comforter, and a throw pillow. Attached steps on the end help Gabriela climb up; there's a mirror next to the ladder.
A stool for her desk
An LED lamp that really works
A pretend tablet Gabriela uses to work on her poems, with two screens
Postcards from friends
All Gabriela's writing needs, including her journal, 5 sheets of loose-leaf paper for her poems, and 2 pencils
Her favorite art supplies, including a sketchbook, a paint palette, a paintbrush set, a paint tube set, scissors, and 6 sheets of construction paper
An art box to store her supplies
A smock to keep her clothes paint-free
2 clear pink storage bins with heart logos
Gabriela's favorite paintings, which she displays around her studio for inspiration
A picture frame
Batteries included.
Cannot be gift wrapped.
Oh, look. McKenna's bed without the hamster and the books that made people so desperate to buy it. Now in aqua. If they'd offered the art stuff in a separate set, I'd probably buy that because it looks really cute but I don't have the space or the desire for the bed itself so this is going in the "sorry, Gabbers" pile along with 90% of her collection. I think for the GOTY, I'm just cursed with either really liking the doll or the collection, but almost never both. Grace and McKenna are the exceptions and even then it's not like I went all in on their collections.
Gabby's rehearsal outfit is back in stock so apparently they got the packaging issues sorted out finally, and there's some new stuff for girls.
That leads us to Tenney and Logan.
Tenney's Music Cartridge Set // $10
Item# FDL61
These three brightly colored cartridges can be plugged into the amplifier from Tenney's Stage & Dressing Room (sold separately); each one plays one of Tenney's songs. The fader knob on the amplifier adjusts the sound from instrumental-only to a full band with vocals. Includes a lanyard.
Won't be getting the Stage and Dressing Room set so these will never come home. I like that they exist though.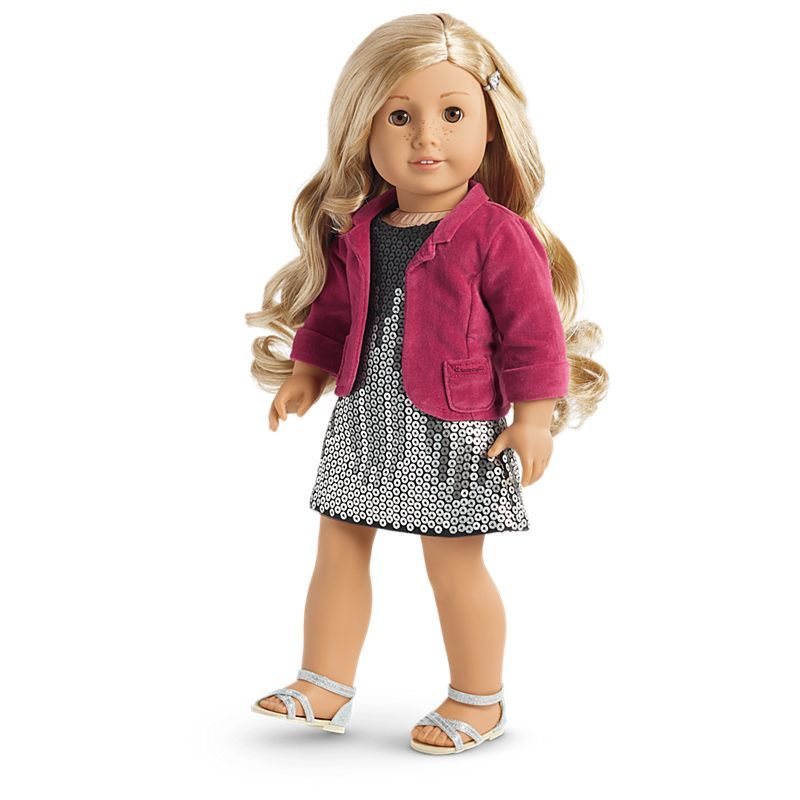 Tenney's Sparkling Performance Outfit // $34
Item# DYL67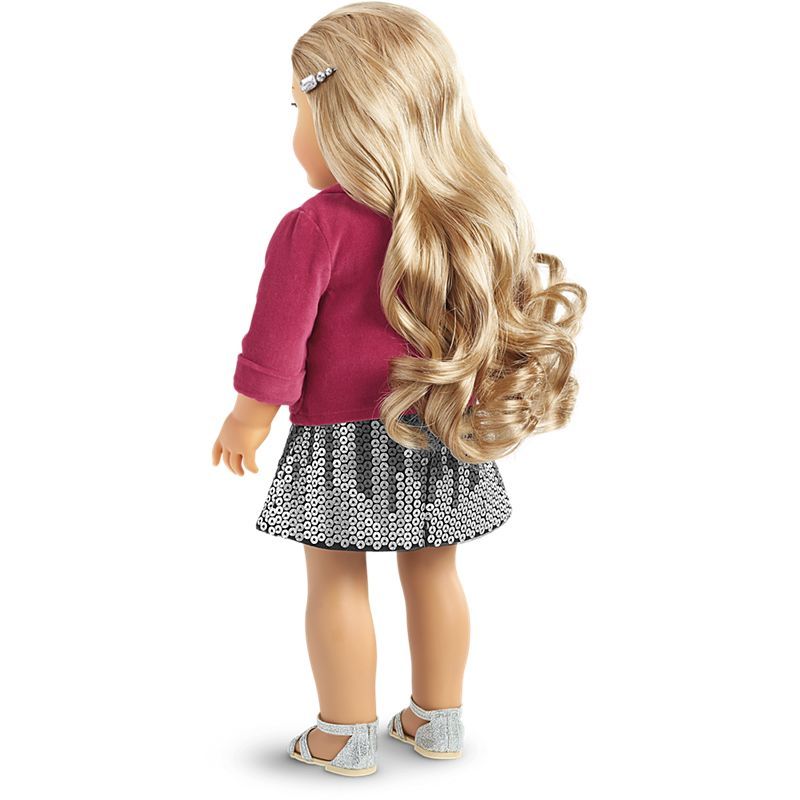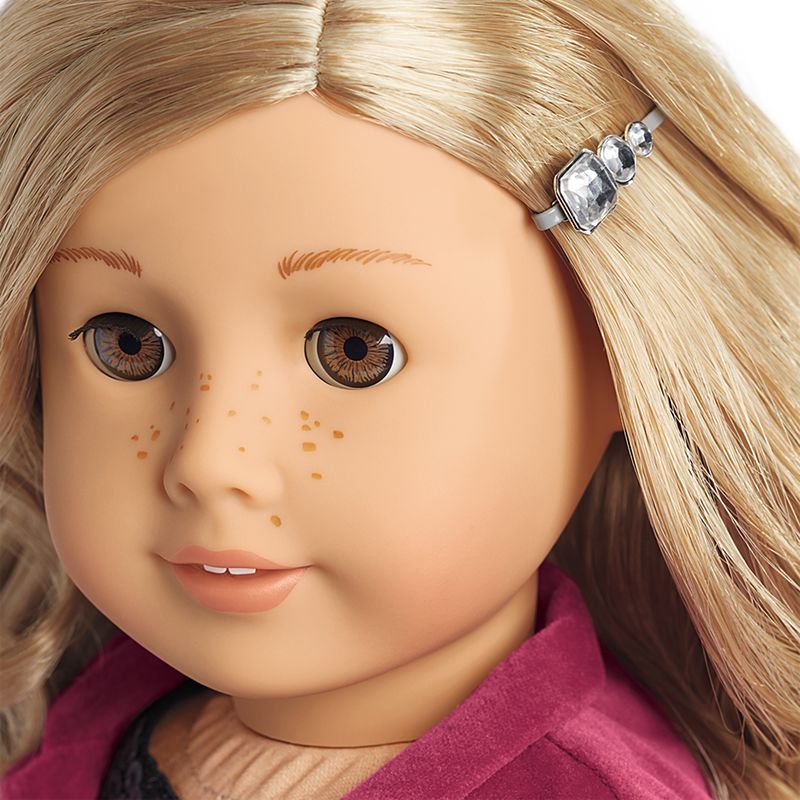 Tenney knows she's the star of the show in this pretty dress. It includes:
A sleeveless A-line dress with ombre sequins
A rosy-red velvet jacket with patch pockets
Sparkly silver sandals
A barrette with three clear rhinestones
First, take a good hard look at Tenney there. You'll notice that's an altered Tenney. Nope, actual Tenney has lipstick you can see from Jupiter. This Tenney is partaking in the nude lipgloss look. She also looks like she's about to say something sarcastic. This is the most interested I've been in her all year. But no. I shall not be tricked, AG. Any mold but classic!
Anyway. I want the outfit. I mean, c'mon. Velvet jacket and sequins? Duh!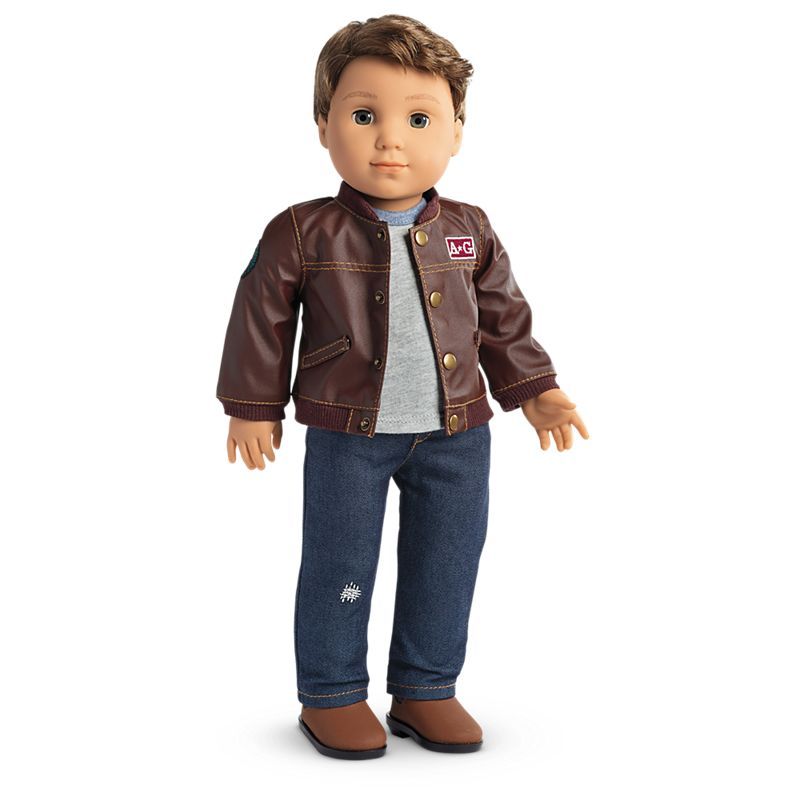 Logan's Performance Outfit // $34
Item# FDL60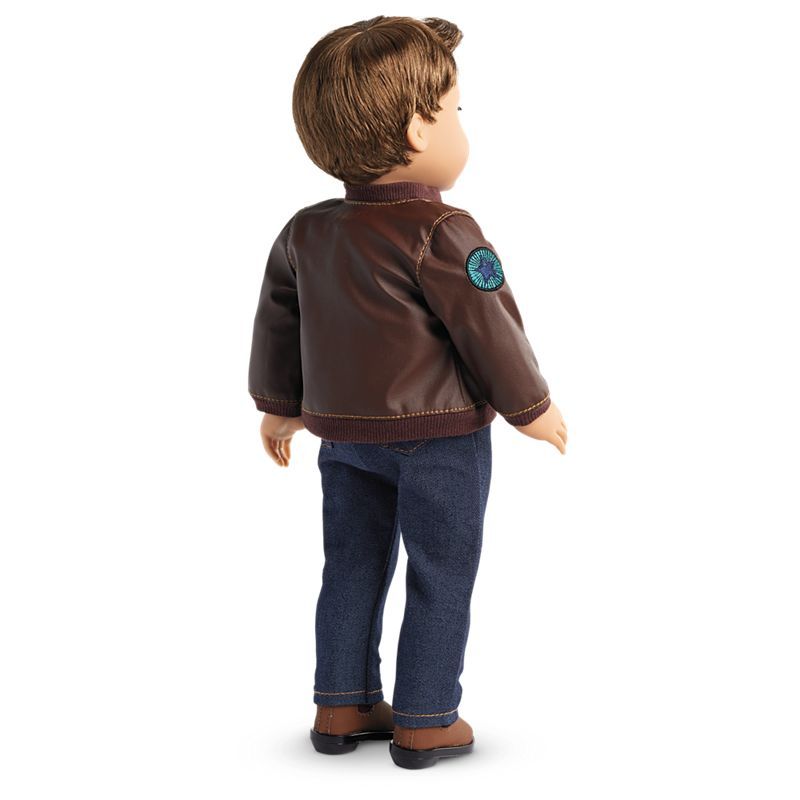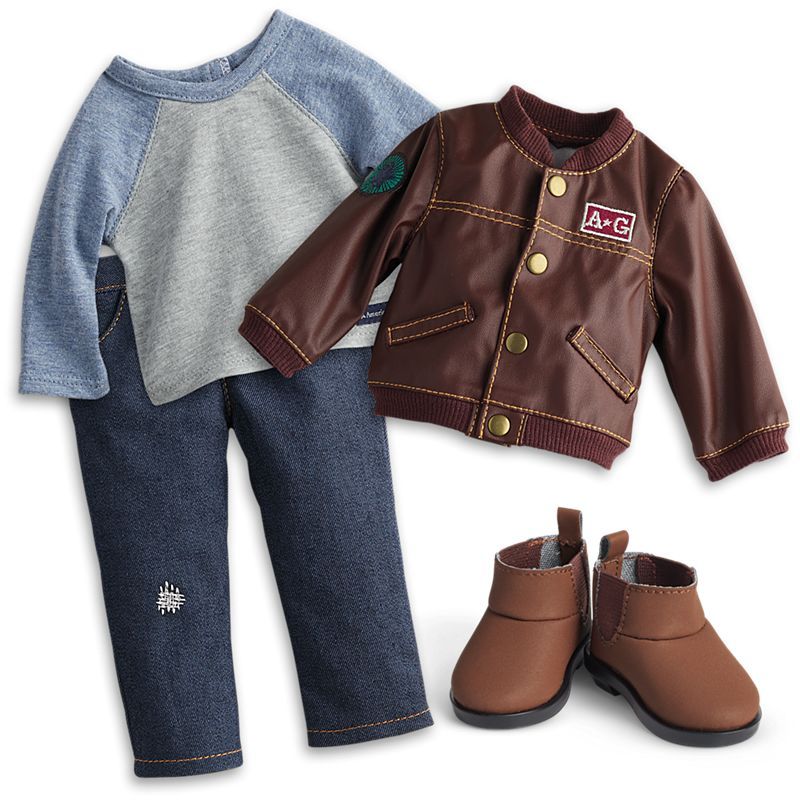 When he takes the stage, Logan wears this outfit:
A heathered-gray tee with blue raglan sleeves
Skinny jeans with faux distressing on one knee
A brown faux-leather jacket with ribbed collar and cuffs, a snap-front closure, and patches on the front and arm
Slip-on brown boots
It's like AG asked themselves what's the most dude like outfit they could think of and this popped up. The faux distressing on one knee looks pretty dumb, but otherwise I like the outfit and it shall be miiiiiiiiiiiiine.
Let's wander over to the Wellies, shall we? I will never understand how AG can continue to use free shipping on the Wellies but ignore it on everything else on their site aside from gift cards. Technically, I guess it's because the Wellies are available at other retailers (B&N, Kohl's, TRU, and I swear Target was mentioned?) but Gabby, Logan, and Tenney are all available at Kohl's and TRU, and Amazon's got Melody, Julie, ME, and Z so....
Anyway, I digress.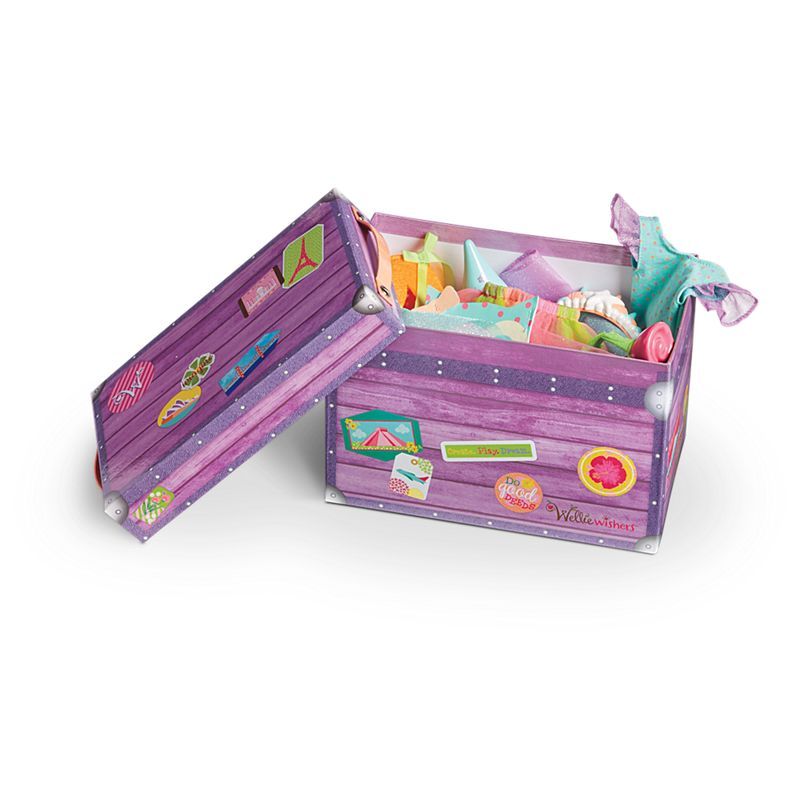 Dress-Up Trunk for WellieWishers // $48
Item# FFB12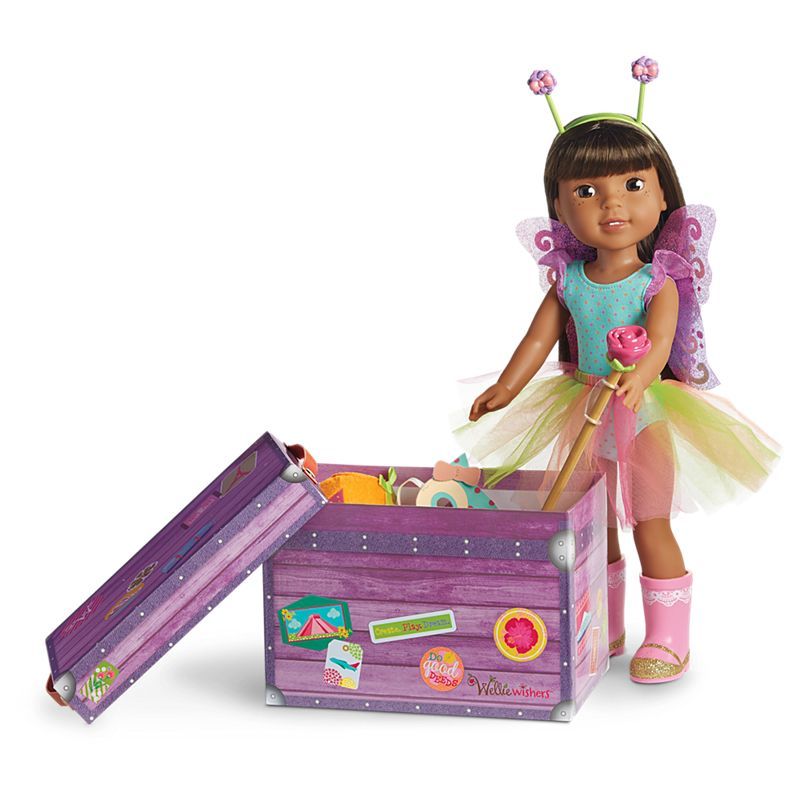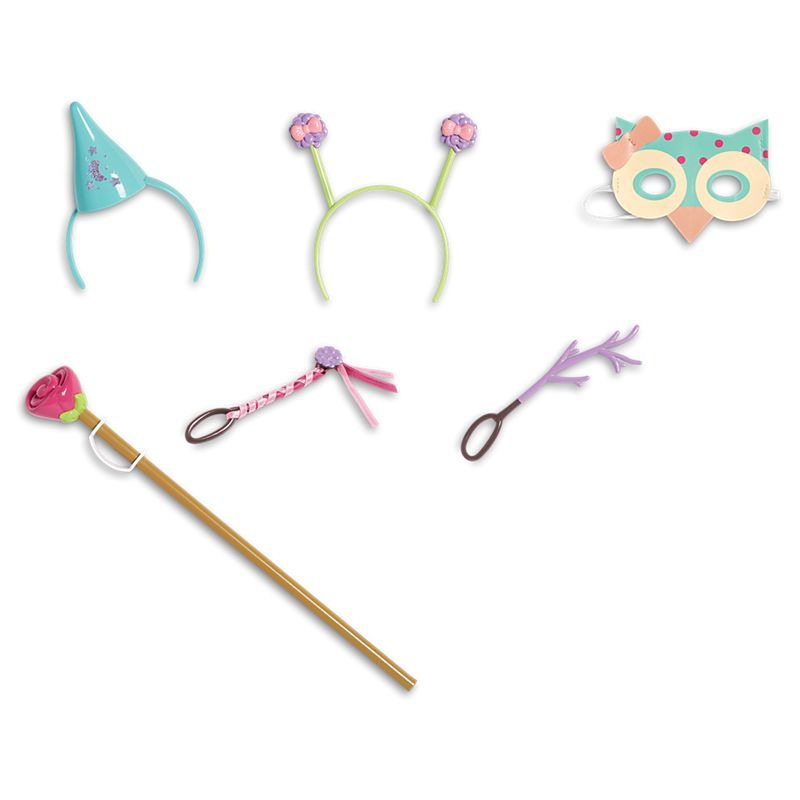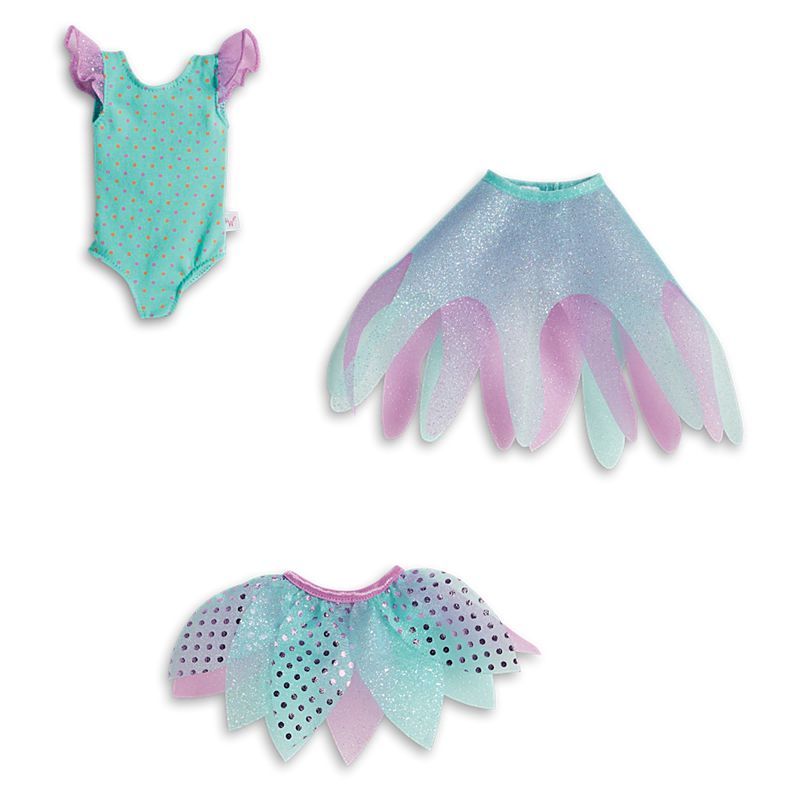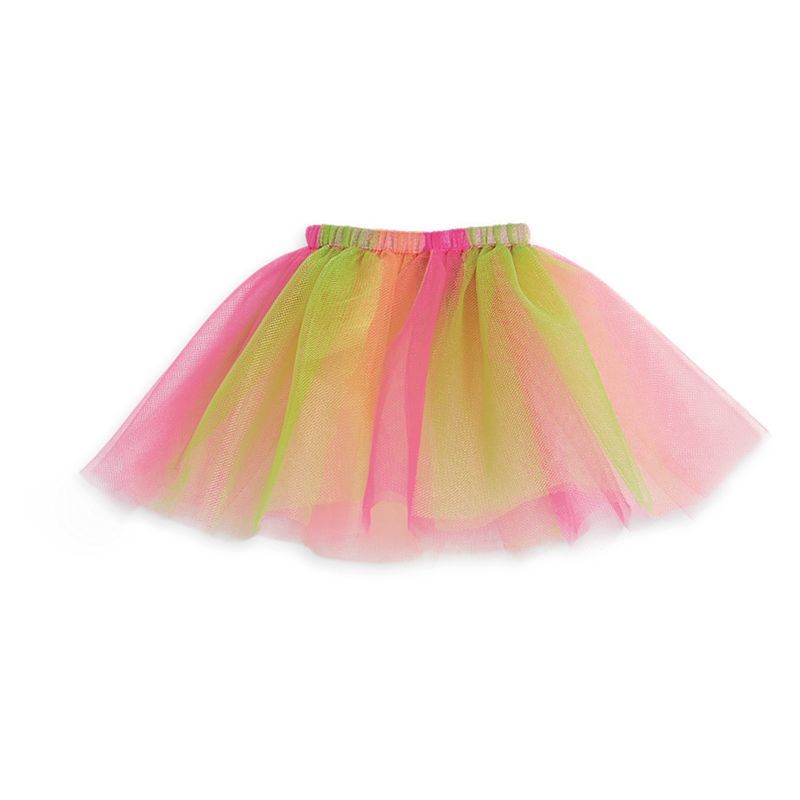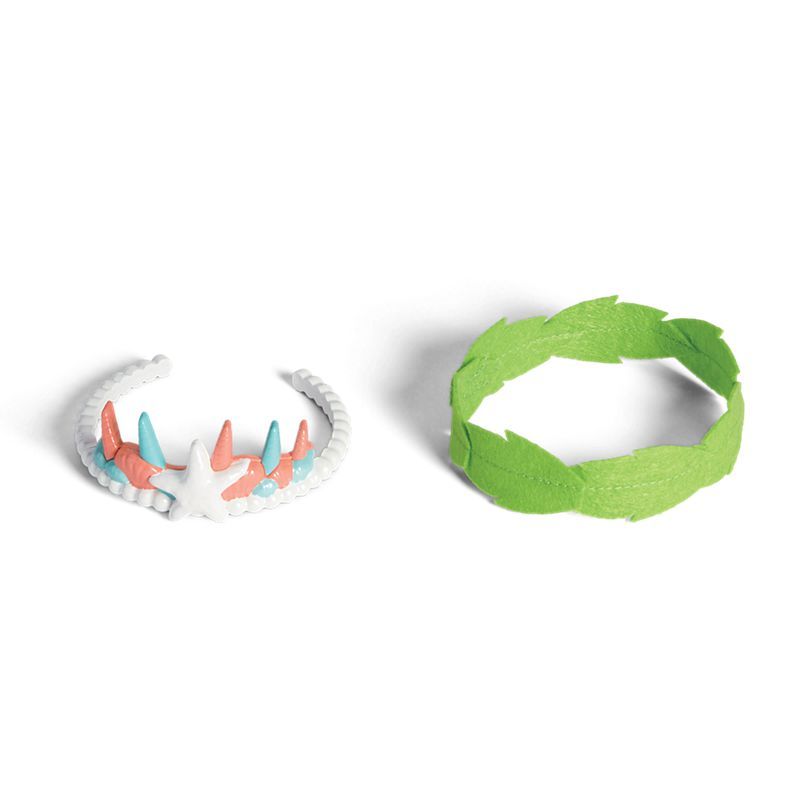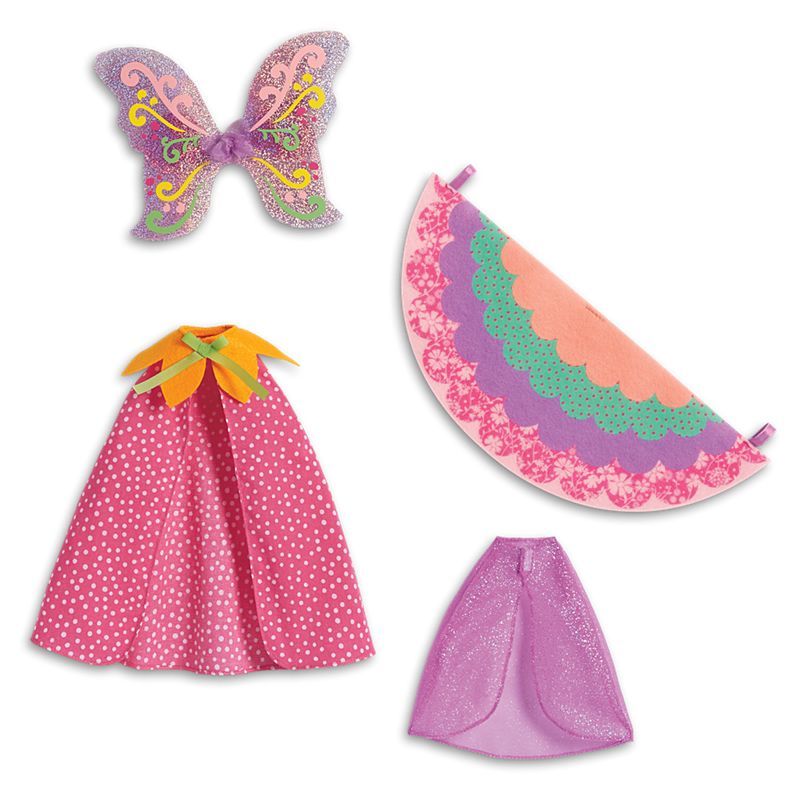 Aunt Miranda brought this down from her attic as a special treat for the WellieWishers, and they can't tear themselves away! This set includes:

A paperboard trunk with an allover print and travel stickers, and a lid that comes off—the trunk can hold all the pieces of the set
A jersey-knit leotard with a colorful dotted print and glittery cap sleeves
A rainbow tulle skirt
A flower petal skirt with alternating colors
A pretty shell crown made of colorful pretend seashells
A shimmery seaweed skirt
Glittery butterfly wings with loops that attach them to a doll's arms
A butterfly headband with flowers and bows atop the antennae
A purple twig wand that can be held by a doll
A shiny purple capelet
A flower wand that looks like a branch, with entwined ribbons and a pretty posy on the end
A wizard hat headband with a glittery graphic
A felt leaf crown
A polka-dot cape with bright petal details at the neckline; its print matches the curtains in the WellieWishers Playhouse
A rose scepter that dolls can hold
A cute felt owl mask trimmed with a bow on one side
Big, bright owl wings
I wish they'd shown more of this stuff actually in use and not just "here's the stuff included!" because I'm having a hard time imagining some of it and how it'll actually look. Not that it really matters because I won't be buying this. I like that it exists because I think the idea is totally appropriate for the Wellies, but it's just not what I'm into. Which, if I'm honest, is how I feel about like 85% of the Wellie stuff. :p
Twirling Tulip Costume // $24
Item# FFB06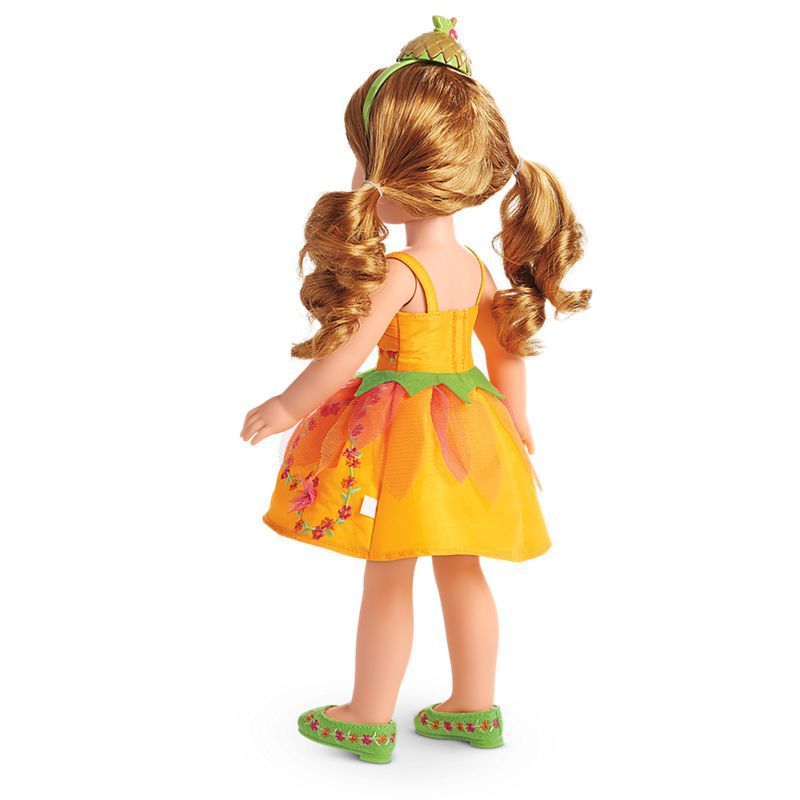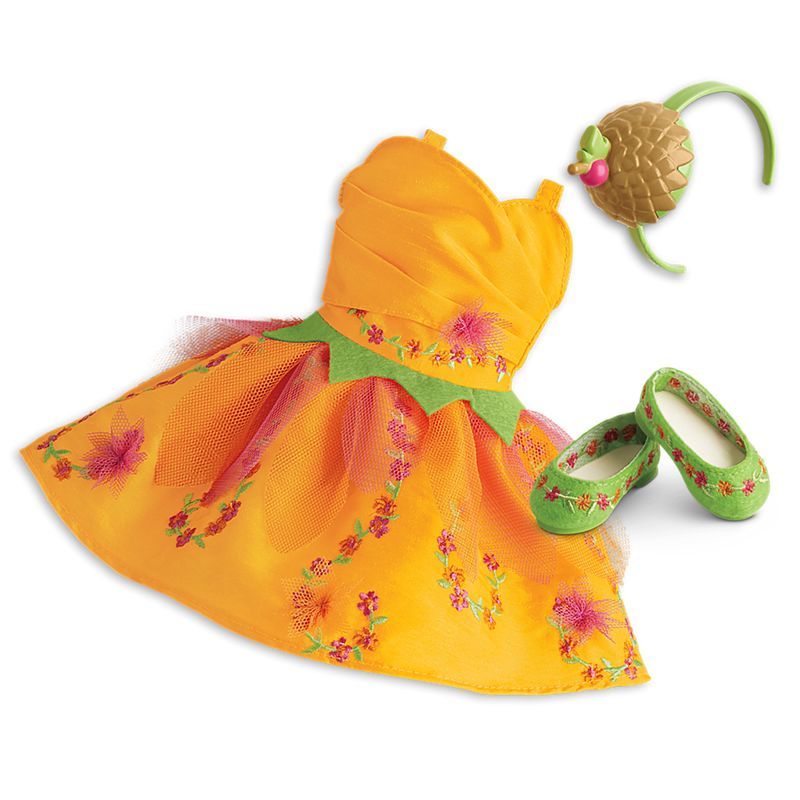 The WellieWishers will be dressed to dance and daydream in this petal-perfect outfit. It includes:
A cheerful orange party dress with petal detailing, floral embroidery, and mesh flowers on the full skirt
A headband topped with a whimsical acorn cap
Matching ballet flats
Is that... felt on the dress and shoes? The green part on the dress, I mean. I hate felt. It's one of those things that I touch and my whole body just screams "no!" and I recoil. Visibly. Anyway, I kinda hate the hat. I'm not a huge fan of the color combo but I do like the embroidery and without the flippin' felt, I might've been tempted. I might still be because this falls somewhere between "ugh" and "well maybe..." I don't really understand it, but it's kind of pretty and while it says costume, if you ditched the hat (and the felt), it'd just look like a pretty dress. Which is somehow not very Wellie, but since I'm sitting over here wishing for more normal outfits for them in addition to the costumes, you can see why I might be a bit conflicted. Or not.
Fantastic Firefly PJs // $20
Item#FFB05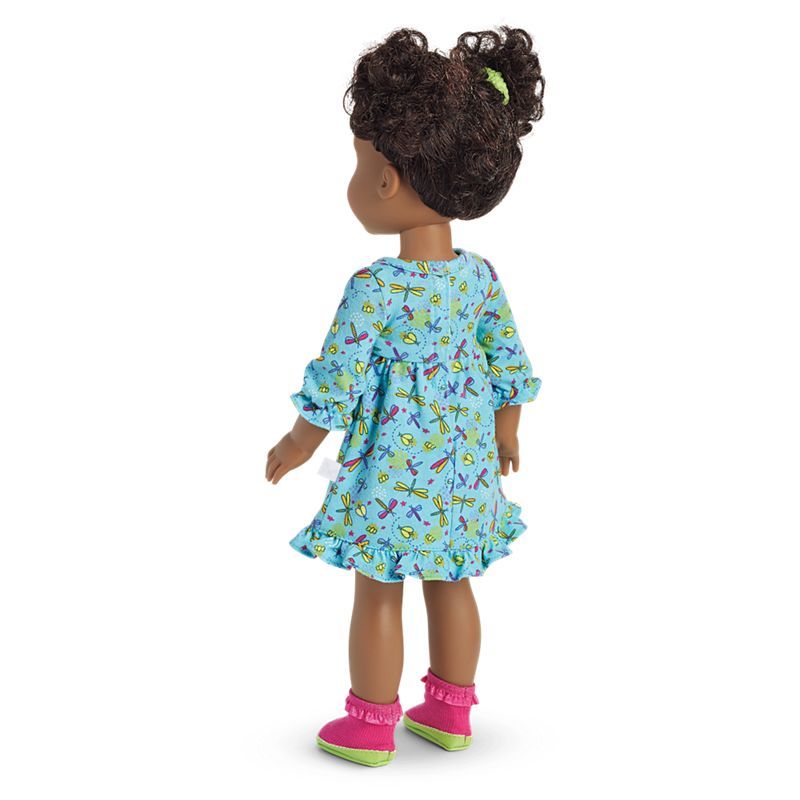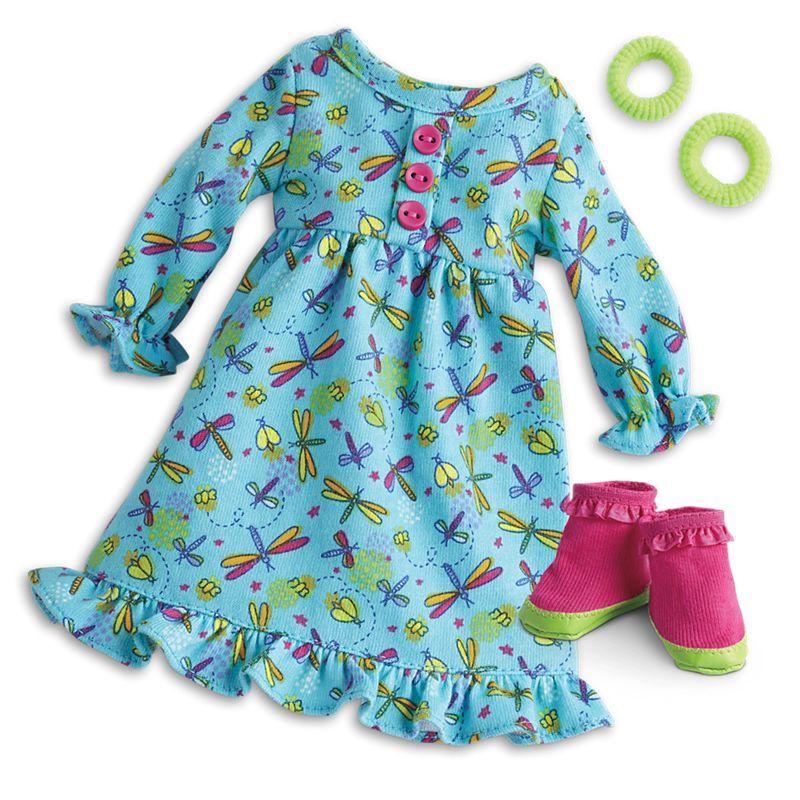 The WellieWishers adore watching flickering fireflies in Aunt Miranda's garden, and afterward, they 're ready to slip on these cute PJs. Includes:
A nightie with a cute and colorful firefly pattern, featuring ruffles on the sleeves and hem
Knit slippers
2 matching hairbands
PJs! I actually kinda dig these. I hate the shoes but the actual nightie there is pretty cute and I had more than one similar version as a kid/when I was younger. Plus, fireflies are just cute in theory. I'm tempted to buy this and then write AG and say hey, I bought this because free shipping. Try that with other stuff and you'd be amazed at what you can sell.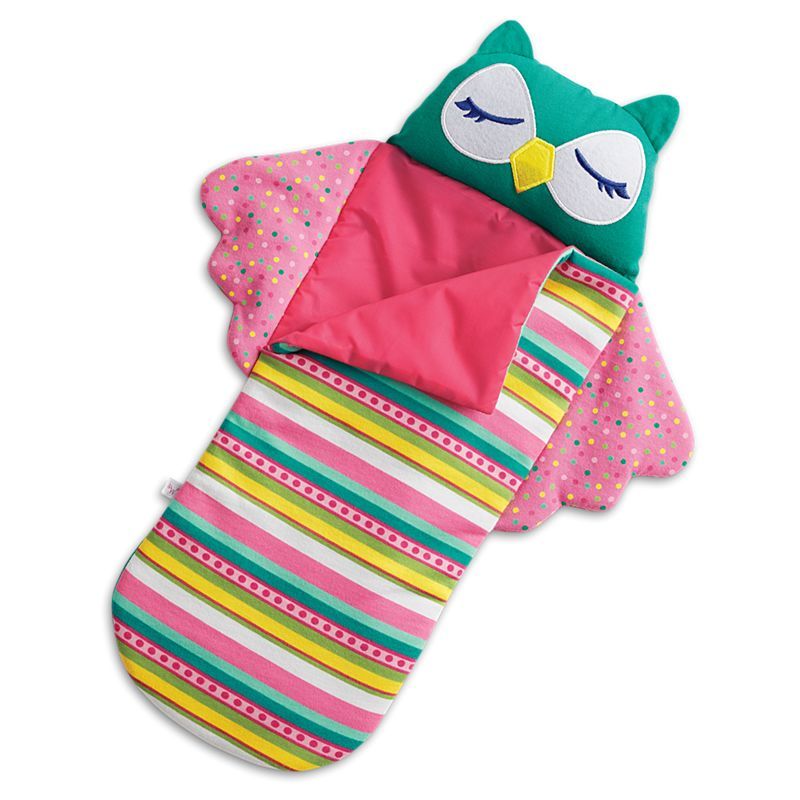 Night Owl Sleeping Bag // $15
Item#FFB08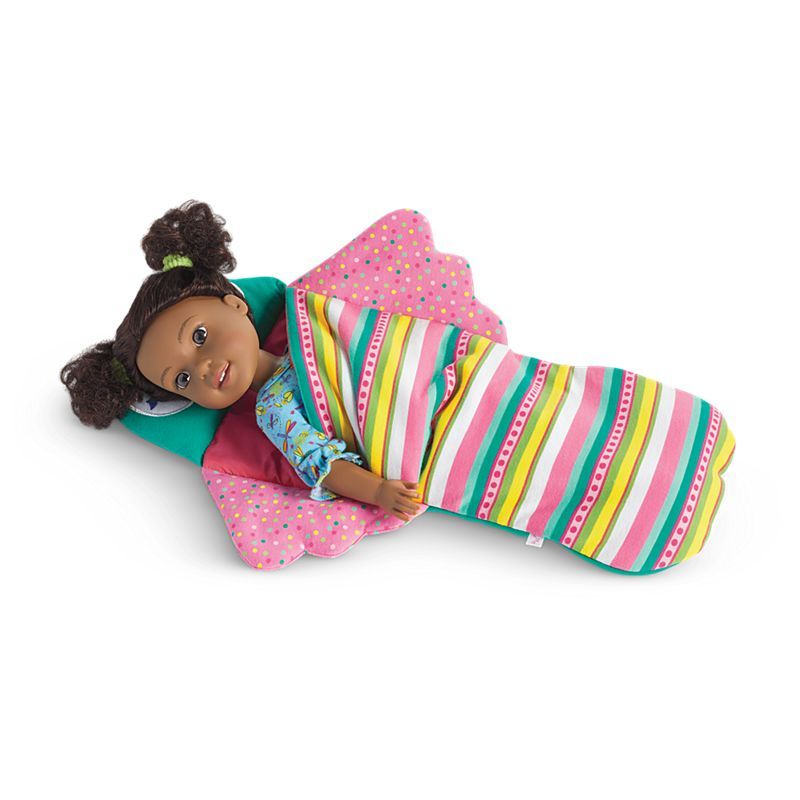 Whooo's ready for fun? The WellieWishers are—and their antics are a hoot! But when it's time to snooze, this adorable owl-inspired sleeping bag, with its pink wings and cute sleepy face, is a wise place to choose.
I don't know why, but the picture of Kendall lying down in the sleeping bag freaked me out for a second. Probably because I forgot that the Wellies don't have sleep eyes. It's $15 and it's cute, but it's also really busy pattern/print wise. I might snag it at some point, but I also might not and I don't think I'd be upset either way.
Sweet Dreams Garden Tent // $38
Item #FFB09
When the sun sets, the WellieWishers gather in this nighttime hideaway imagining that they're deep in the woods—and naturally, pretend camping is sweeter with the fixings for campfire treats. This set includes:
A bright fabric tent with a whimsical night scene
A vine-decked lantern to light the WellieWishers' way
A box of pretend graham crackers
A bag of pretend marshmallows
A stick for roasting them
A faux chocolate bar
A faux s'more
Y'know, I'm not sure my parents would've trusted me to make s'mores the 'real' way at the Wellie's age. Microwave them, sure. But over fire? Yeaaaaaah, no. With that being said, they're dolls and pretend and it's cute. I actually like a lot about this set, but I think we all know damn well if I bought it, Ozma would steal it. ...No, don't do it, self. Do not buy the cat an overpriced doll tent just because the raccoon on the print is cute and the s'mores stuff is adorable.
Well, shit. I know what the cat is getting for Christmas. :P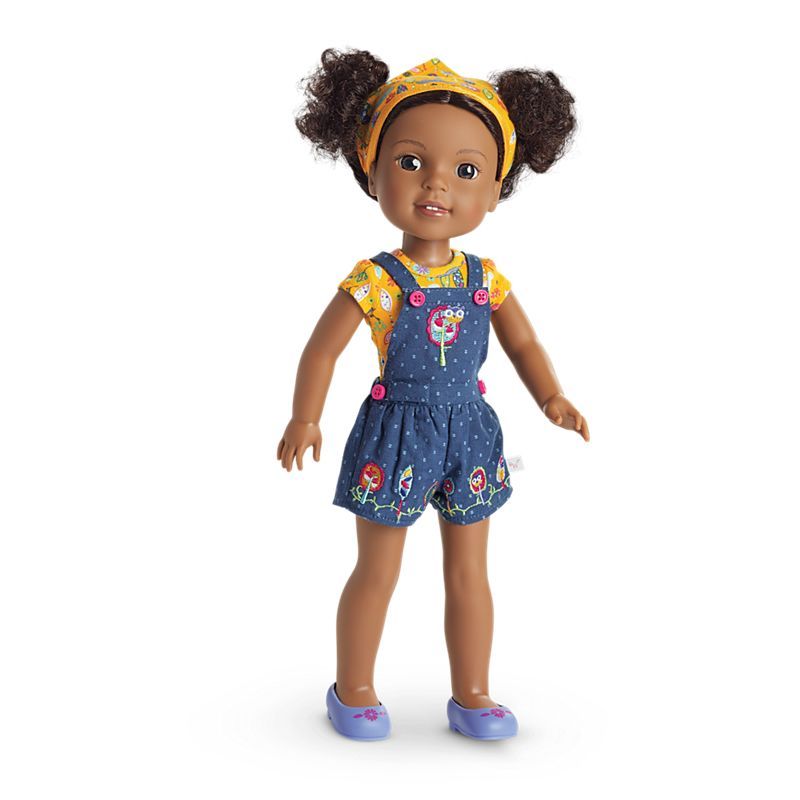 Outdoors in Overalls // $24
Item#FCW73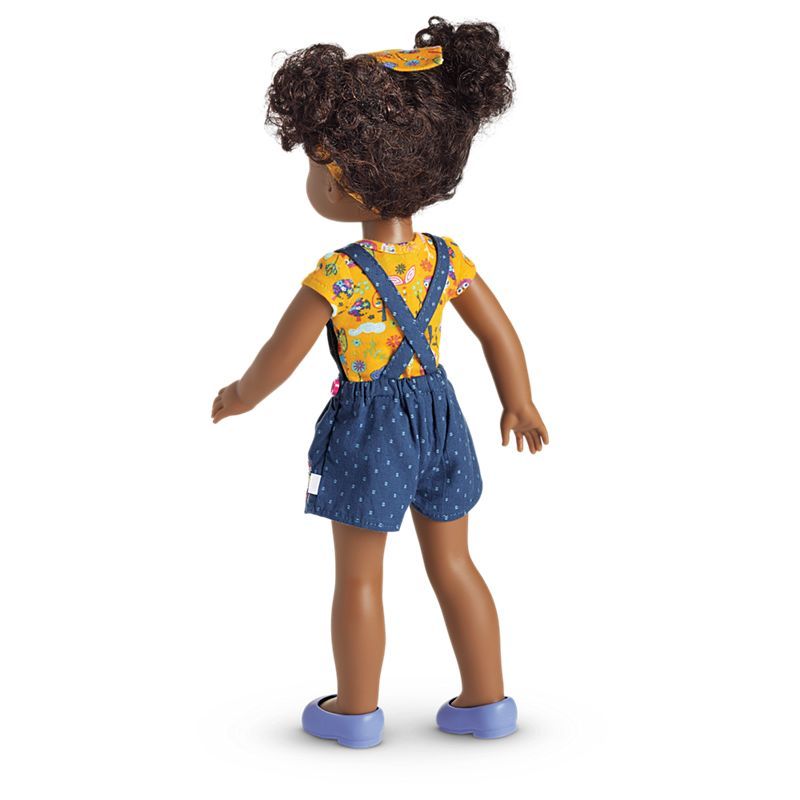 It's the ideal attire for mucking about in Aunt Miranda's garden! The overalls have a woven dot pattern and are embroidered with cheery bird faces; the brightly colored tee and kerchief have a matching print. Matching shoes complete her casual but cute look.
Look! What passes for a regular outfit in the Wellieverse! I wish they'd show the outfits on various Wellies but this one is pretty clearly a Kendall outfit when you zoom in and realize there's a loop on the wasit for her hammer. Dammit, AG, I don't have the money for Kendall and Nanea and a custom. Hell, I don't even have the money for one of them at the moment, stop tormenting me. ;_;
(But yes, this is on the want list.)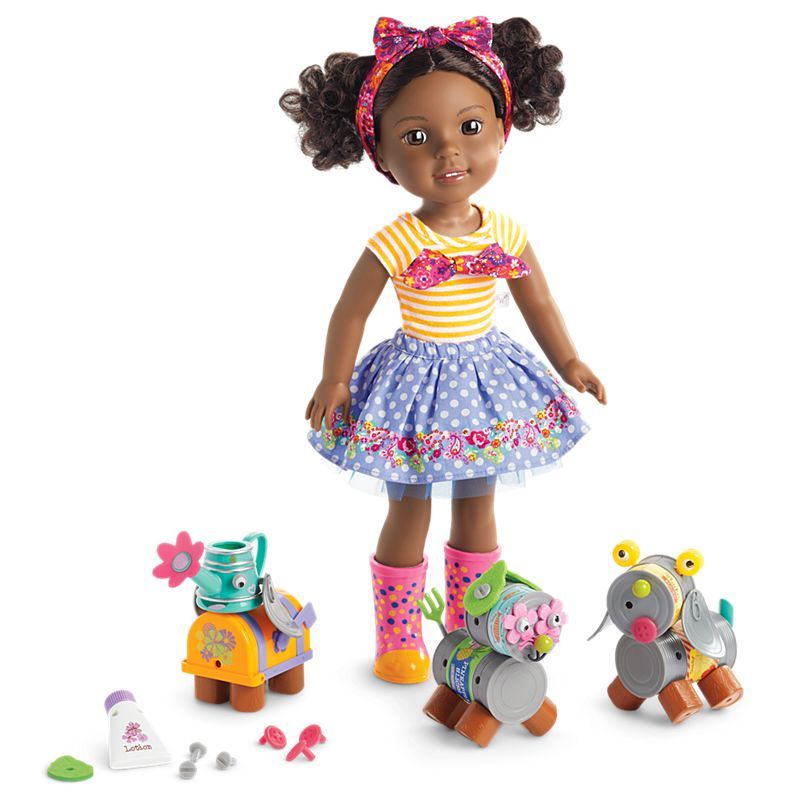 Mix and Match Garden Pets // $28
Item #FCR51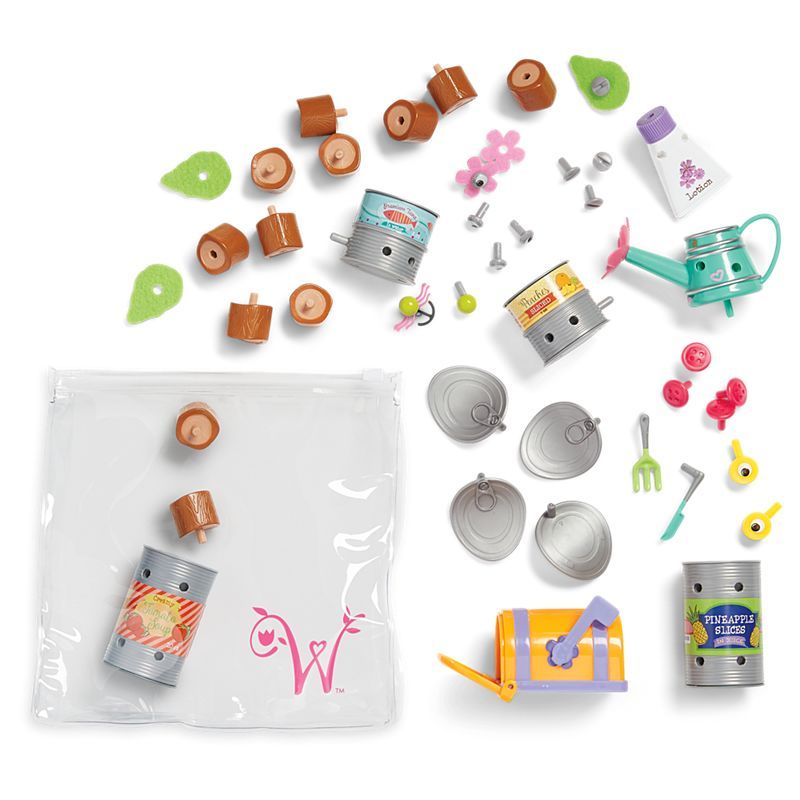 Kendall's every waking moment is spent tinkering and building things, and she has upcycled these household items to build pets for the garden. Each piece has holes or pegs to help it fit together with other items. Kendall's creative collection can build a dog, cat, duck, or elephant—she's not sure which one she loves more! This set includes:

A happy watering can; it can serve as an elephant's head!
A birdhouse mailbox; it makes a great torso
12 tree stump pieces that serve well as legs
8 "eyes"made of bottle caps and bottle tops
4 cans and 4 can lids
3 felt leaves
2 pom-pom noses, one with whiskers
2 felt flower eyes
A lotion bottle
A small rake and shovel; they make good tails
4 sewing buttons
4 bolt-shaped pegs
A zippered storage bag
The lotion bottle is freaking me out. I should not be able to hear a Silence of the Lambs quote in my head while looking at a toy for really young kids. o_O This probably says far more about me than it does about AG but there you go.
These are cute and terrifying at the same time. I'm going to give it a thumbs up but probably never going to buy because I can admire from a distance. But it looks like fun and I appreciate that.
Birthday Cart and Treats // $48
Item#FFB11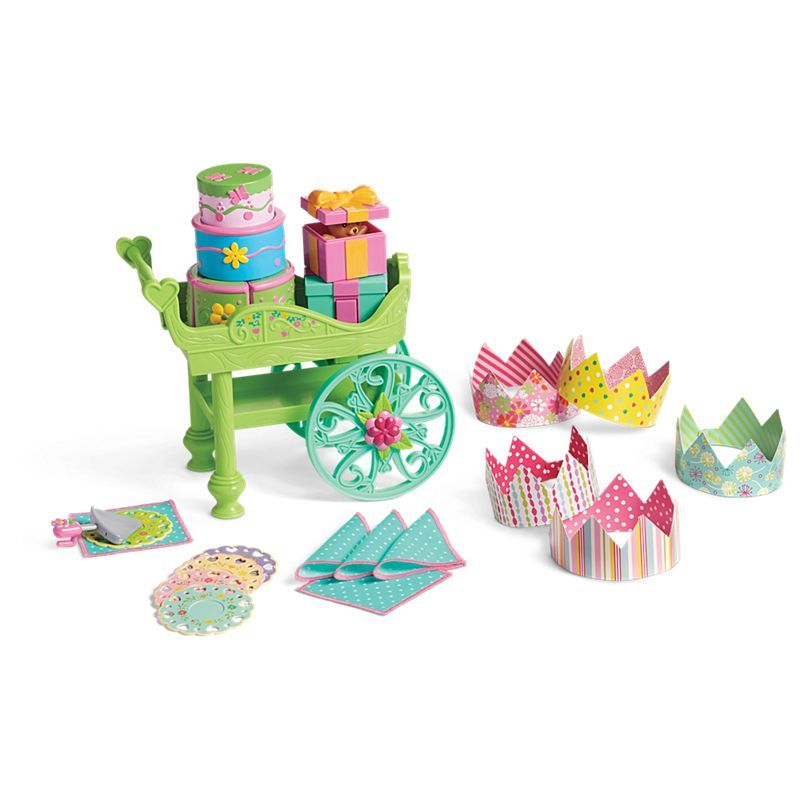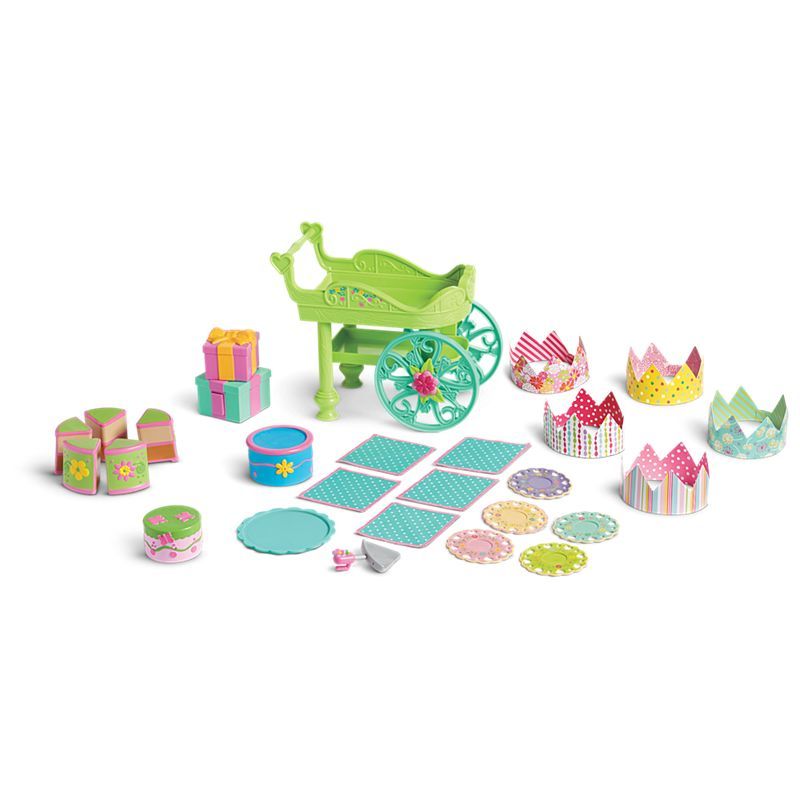 When one of the WellieWishers has a birthday, the others pull out all the stops for a fun party. This set helps them celebrate in style. It includes:

A fancy cart with wheels that roll
A cake platter
A cake top
5 pretend cake slices for the WellieWishers
A pop-up gift box—a little bear pops out!
5 paper doilies
A cake server
5 paper hats
5 cloth napkins with embroidery stitching
This is one of those things that's cute the less I look at it. I like the pop-up bear and I like the stuff, but all together, especially in the picture with Willa... it's a little much for me. I like that it comes with stuff for all the Wellies so you don't have a Samantha or Grace dining alone problem.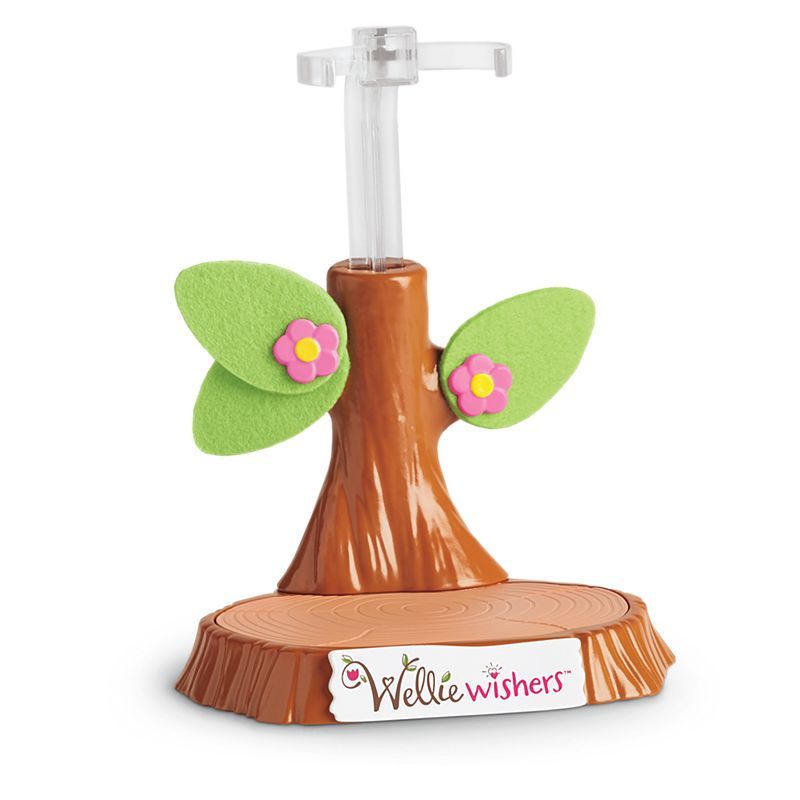 Wellie Wishers Doll Stand // $15
Item# FGF71


Whimsical and woodsy, this charming stand looks like a tree, complete with pretend trunk and leaves.
Sometimes AG comes out with something so fitting you can't believe you didn't think of it first. Seriously, this is pretty much spot on for a stand for the Wellies.
There's also a few new things for girls but I don't really feel like going through all that. There's a tooth fairy pillow if that's your thing. *shrug*
Holymotherofgod, this release just never ends. I'm going to go with the new Truly Me Dolls and then we're gonna take a break. Mine will be to the tune of a strawberry daiquiri, but you may go with something else entirely.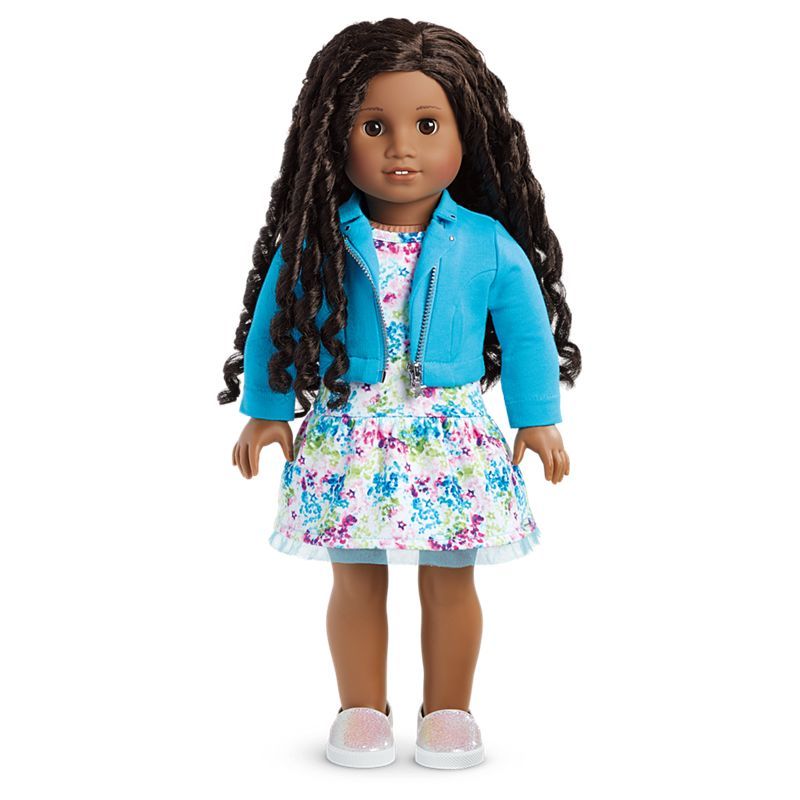 Truly Me Doll #67 // $115
Item # FRF28


Brown Eyes, Curly Black-Brown Hair, Dark Skin Tone
The 18-inch Truly Me™ doll has a huggable cloth body, eyes that open and close, hair that can be styled, and a movable head and limbs made of smooth vinyl. This doll has dark skin tone, curly black-brown hair, and brown eyes. She arrives wearing a printed dress with a mesh hem, a zip-front moto jacket with a star zipper pull, and glittery flat shoes.
Or, what Gabriela was most likely supposed to look like before they fast tracked her. I'd imagine Gabby probably was still supposed to have had the darker lips the later versions of her are coming out with but I'm inclined to believe the conspiracy theories that have this as Gabby's true form. Either way, I think she's cute. I'm not 100% in love with the longer curly wig, but a lot of that might be due to it showing up in a million colors on the grey market due to it being one of the customize your own doll options. (It looks pretty awful in blonde, btw.)
Also, people flipped their shit because I'm guessing the store handbook pic leaked and had her listed as "African American" which caused people to shriek about the Addy mold. Also, AG's never really specified the non-character dolls as any race in particular, but did I hear anyone use that reasoning as a, "this is weird?" moment? No. No I did not. She's not listed as such on her own pages, though.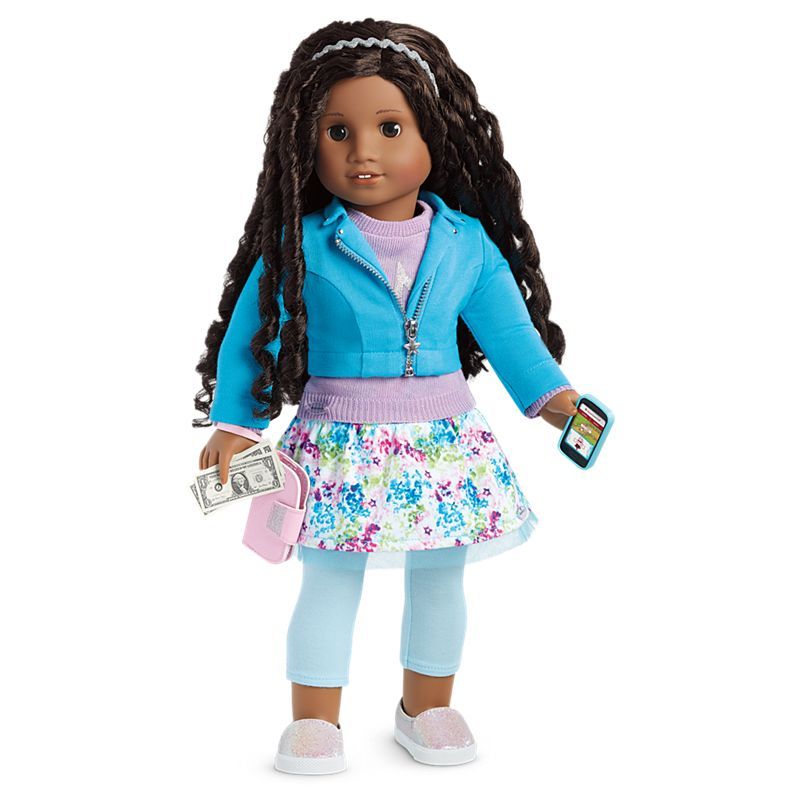 As for the new TM Meet outfit? I dig it. I like the jacket, I like the dress... I'm less sold on the shoes because they're all plastic and glitter and not canvas. But overall, this look is miles ahead of the Starfleet uniform we just got rid of. Still, I don't think I'd like a million versions of this one either. o_O
Truly Me #68 // $115
Item # FRF73


Brown Eyes, Layered Brown Hair, Light Skin Tone
The 18-inch Truly Me™ doll has a huggable cloth body, eyes that open and close, hair that can be styled, and a movable head and limbs made of smooth vinyl. This doll has light skin tone, layered brown hair, and brown eyes. She arrives wearing a printed dress with a mesh hem, a zip-front moto jacket with a star zipper pull, and glittery flat shoes.
The Josefina mold version of #59. She's cute. I like the idea of AG having versions of the same doll in different molds. I am that much of a dork and it completes my soul. I probably won't buy her because guys, the closet is pretty much full at this point, but I do hope she's popular so I get to see her a lot.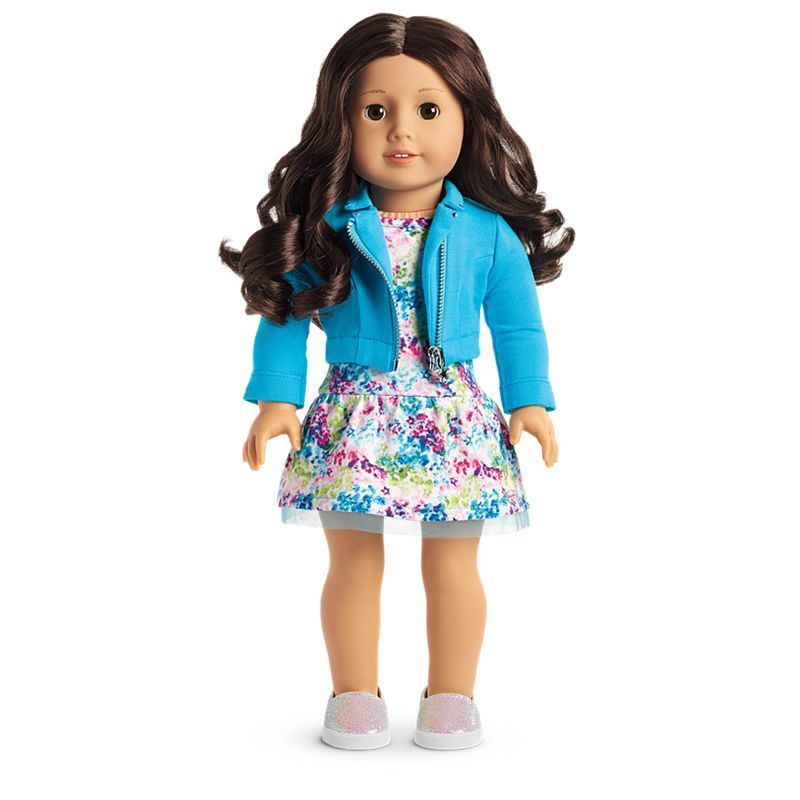 Truly Me #69 // $115
Item# FRF82


Brown Eyes, Curly Dark Brown Hair, Light Skin Tone
The 18-inch Truly Me™ doll has a huggable cloth body, eyes that open and close, hair that can be styled, and a movable head and limbs made of smooth vinyl. This doll has light skin tone, curly dark brown hair, and brown eyes. She arrives wearing a printed dress with a mesh hem, a zip-front moto jacket with a star zipper pull, and glittery flat shoes.
You guys wanted brunettes, have some brunettes without bangs. I swear, I think people have been asking for a version of this doll for half of forever and yet I've heard nary a peep about her.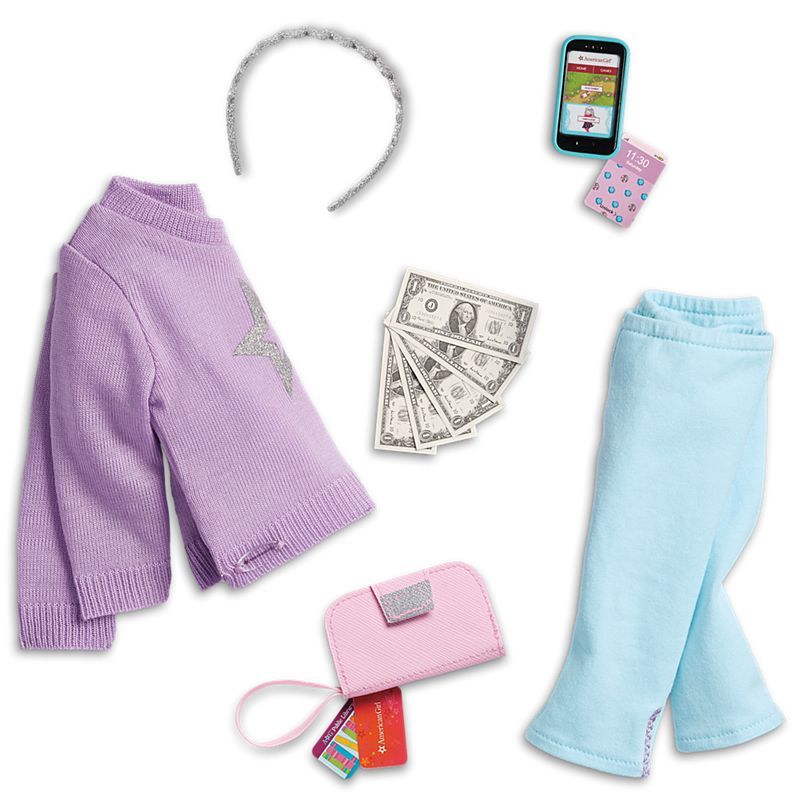 Truly Me Accessories // $30
Item #FDW89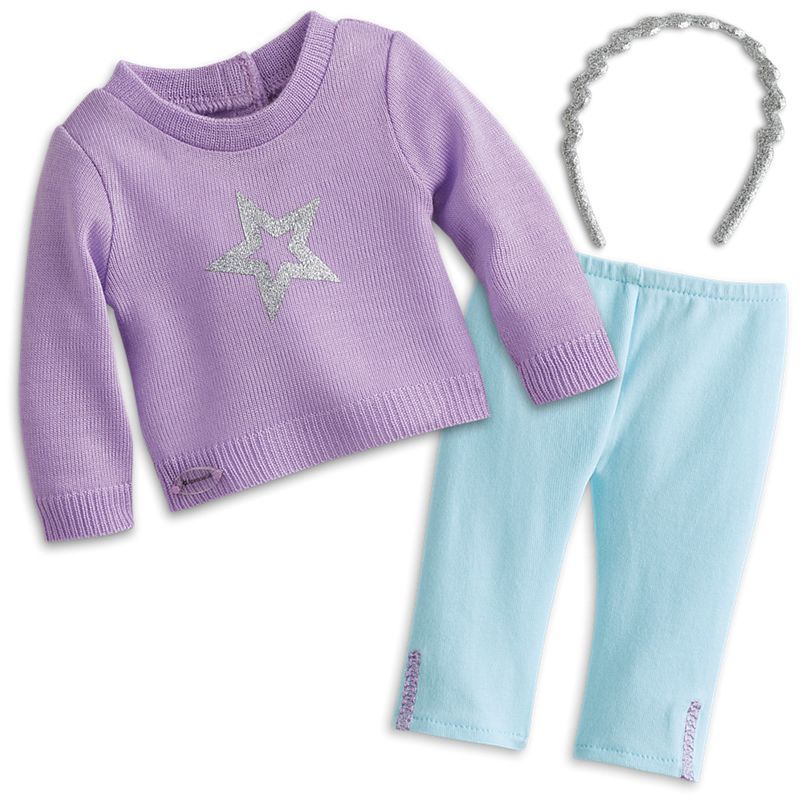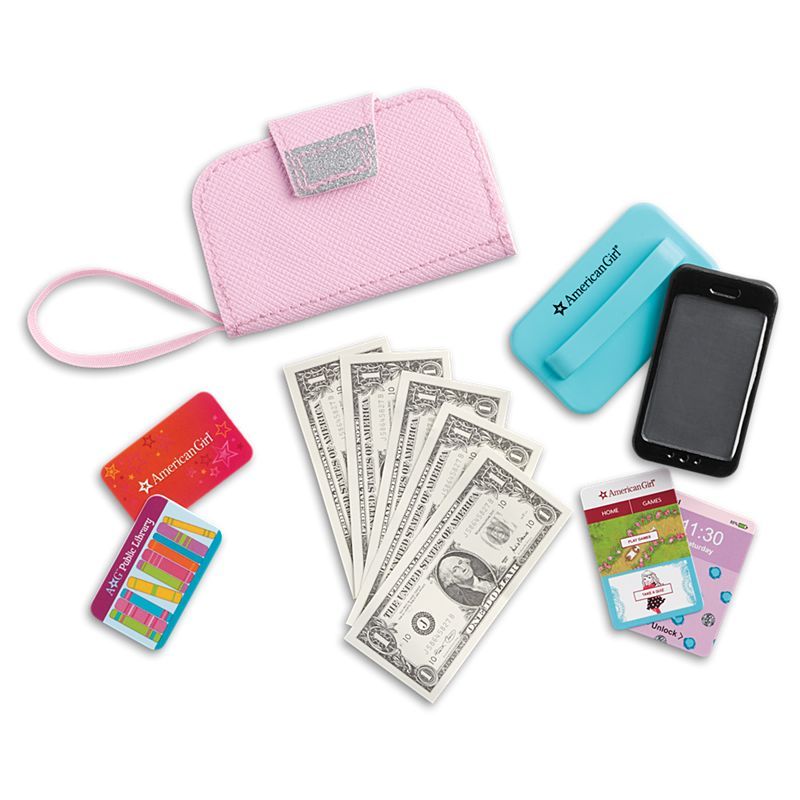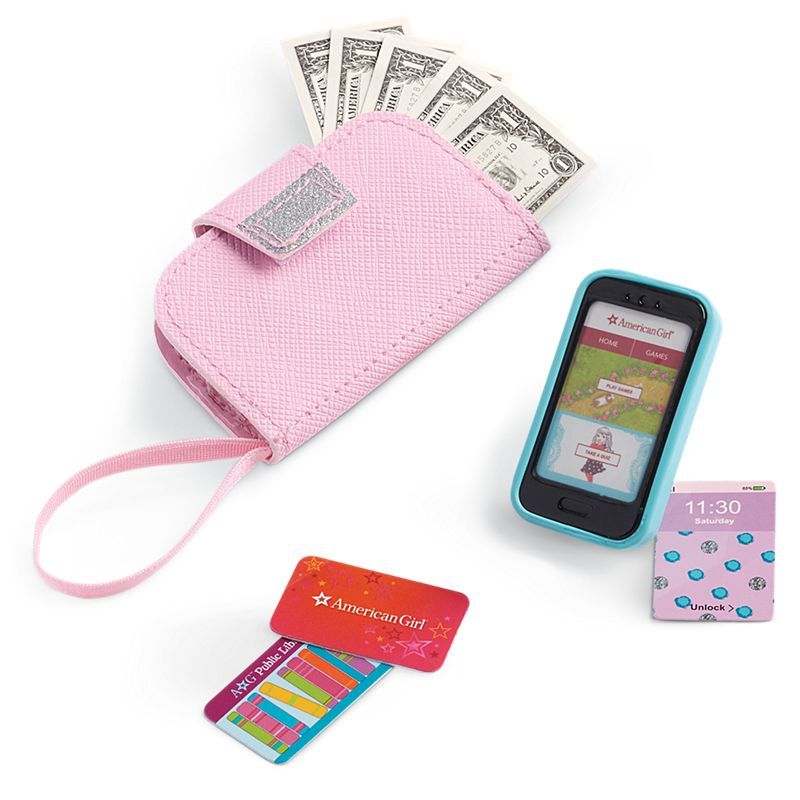 Create more looks than ever with this 15-piece set! It includes:

A lavender sweater with a glittery star graphic
Light blue jersey leggings with embroidery at the ankle
A glittery zigzag headband
A wristlet with pockets
A pretend cell phone
2 double-sided phone screens that slide into the phone
A flexible phone case with hand strap
A pretend library card
A pretend doll-sized American Girl gift card
5 pretend dollar bills
You know, I know the TM accessories are always pretty expensive compared to say, the BF accessories, but this time I think they're worth it. Or closer to worth it, anyway. You get a sweater and leggings which will work with all kinds of things AG has released over the years, and I like the wallet and cell phone... basically I think I'll actually consider this should I snag a TM doll again.
I couldn't tell you which TM dolls didn't make the jump to the new look, but I will say that they moved the dolls without hair to the regular TM lineup so now you can order them without having to call.